Over-arching questions:
Our laboratory is interested in understanding how B cell behavior is regulated after encounter with either "self" or "foreign" antigens. We postulate that overlapping mechanisms are at play in both scenarios. The lab seeks to define the rules that govern B cell responses to specific features of foreign antigens, including antigen affinity, valency and co-stimulatory signals. We are also interested in how the clonal composition of both the pre- and post-immune B cell repertoires is regulated. Against this backdrop, we want to understand how self-reactive B cells, despite chronic antigen engagement of the B cell receptor, are restrained from inappropriate activation and differentiation into antibody-secreting plasma cells. We want to define how this process is disrupted in a variety of autoimmune disease states, and how normal regulatory mechanisms (both biochemical and transcriptional) can be harnessed to restore tolerance and optimize vaccine responses.
Selected tools and approaches:
To do so, our lab takes a range of creative approaches that span mouse genetics, cellular immunology, and genomics in order to address these questions. In particular, we have characterized and exploited novel reporter mice (NUR77-eGFP BAC transgenic) in which B cell receptor signaling drives expression of eGFP. This reporter serves as an in vivo sensor of both self and foreign antigen encounter, and serves to unmask enormous clonal heterogeneity among superficially uniform populations of B cells. Recent work has focused on dissecting the distinct roles of the IgM and IgD B cell receptor isotypes in regulating the immune responses of self-reactive B cells. Newer projects seek to define how NUR77 and related orphan nuclear hormone receptors of the NR4A family function to restrain activation of chronically antigen-activated B cells and to regulate B responses to foreign antigen.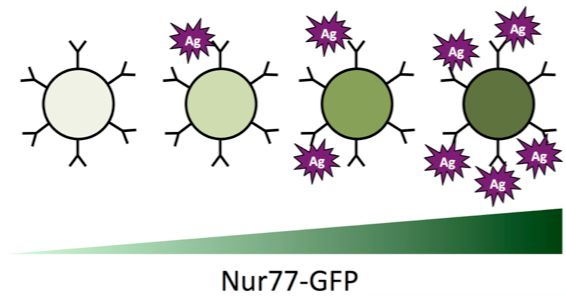 Location
The Zikherman Lab is located in the newly renovated 12th floor laboratory space of the Health Sciences West (HSW) building on the Parnassus Campus at UCSF. We share the floor with five other labs. The six labs on the 12th floor share a mouse procedure room as well as a conference room and break room. Tissue culture rooms adjoin the open lab space. From the 12th floor, the lab space has commanding views of Golden Gate Park, the Marin Headlands, the Presidio, the Inner Sunset, and the Pacific Ocean. The surrounding neighborhood hosts a number of nice restaurants and bars for lunch and happy hours. The UCSF Parnassus campus is located on the SF Muni N-Judah line and there are multiple UCSF shuttles that travel between the multiple campuses across the city making it easily accessible from most areas of San Francisco.